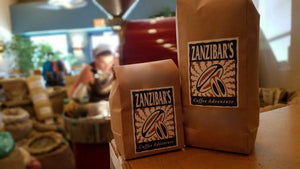 San Agustín is a famous region of the 
Macizo Colombiano
, which refers to a group of Andean mountains in western Colombia.  
Approximately 80% of the producers in this area are cultivating coffee on less than 3 hectares of land. Because the farms are tended to exclusively by the families who own them, the attention to detail is meticulous and there is a tremendous sense of pride in the final product. 
A fully washed coffee, it is then decaffeinated using a process that begins with sugar cane turned molasses. The molasses is then fermented to create ethanol then processed with acetic acid to create ethyl acetate which is used to extract the caffeine.

Cup Profile: chocolate, cinnamon, tart - light/medium roast